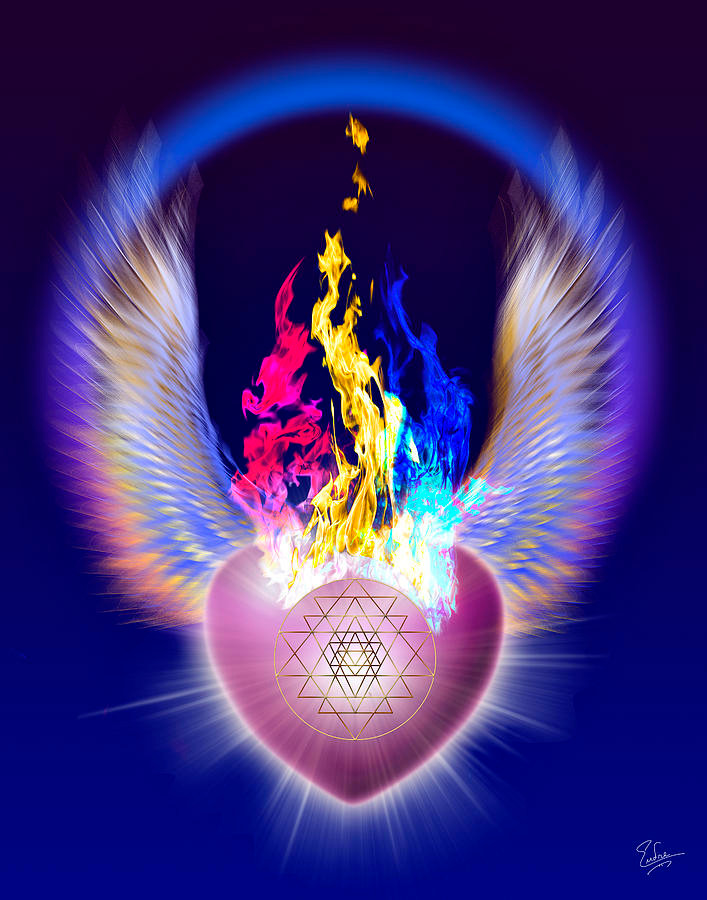 Living from the Heart – The heart's electric field is 60 times stronger than Earth`s magnetic field, and its magnetic field is 5,000 times stronger than the brain's. Kundalini Inner light is the kundalini. In most of us it's only operating at 40 watts. In great saints and tantric masters, it functions at a thousand gigawatt amperage. Anyone who calibrates over 700 can counterbalance the negative energy of over 700,000 people. We just using 6-10% of our brain potential because life on Earth is designed to keep us disconnected from ONENESS, INTUITION and HIGHER WISDOM.
Kundalini energy will infuse them with new energy and blow the blockages apart. This is much like blowing an electrical cir-cuit breaker. The Heart Center then begins to open up like the blossoming of a flower. The Heart Energy radiates out ward and upward. For some people this is a gradual process. For others it happens very fast. When it occurs rapidly, it can take a while for a person to adjust to the new energy.
During Kundalini Rising, the heart center can open up with tremendous volume and can cause life-changing events to take place. On the negative side, those with blocked heart energies are often subject to heart problems, sometimes resulting in a need for medical intervention, or so serious as to cause heart attack. Working with the heart center to help balance all the upper and lower Chakras is a good way to facilitate clearing blockages and promote a healthy energy flow.
The rising of Kundalini energies from the root chakra up the spine encounters the energies of the fourth chakra as well as any blockages that reside there. The blockages in each chakra are opened up since they cannot withstand the direct power of the Kundalini energies. This rising of the Kundalini and the opening
Once the shifting starts, the person may be drawn to make major changes in their life style, personal interactions and/or be drawn to move to another physical location. The transformation from being third chakra centered and becoming fourth chakra aware is a major turning point in a person's spiritual evolution. There is no going back from this point. Old paradigms and control mechanisms will no longer work for the person. A new consciousness is born out of the Heart Chakra energies and it creates new energetic pathways all through the energy body. This is an extremely powerful energy redistribution within the entire being, including all subtle energy levels and levels of consciousness. This is an evolutionary process.
The Evolution of Our Physiology
This new energy of the heart also affects our physiology and creates new brain pathways, giving us greater access to subtle energy centers in the body and greater access to our inherent creativities. New talents can emerge and often do. New goals begin to replace older, more third chakra centric goals. This transformation can wreak havoc in a person's life as it will turn relationships upside down. Personal relationships, work relationships and love relationships will be affected. Some relationships will be transformed, others will end and new ones begin. This is a time of tremendous change and growth. Me speed and power of these changes can be unsettling for the person involved and for those around him or her. Most people do not recognize a spiritual awakening of these energies and only perceive the shift in third chakra energies into something else as a change, sometimes unsettling, sometimes mysterious, often frightening
.
There is another interesting phenomenon in the human condition and that is that people tend to be aware of the energy interchanges and reality level of the chakra they are primarily operating through, but not consciously aware of the chakra immediately above it. Those who are focused on third chakra energies operate at the worldly level of power, acquisition, judgement and control do not "understand" someone who is operating from the heart center energies. Third chakra-focused people view fourth chakra-focused people as an oddity, or weak or even threatening. People who operate primarily at the third chakra level see the world through the eyes of self-centric power. They are closely tied to the lower vibrational energy of fear.
Fear, Anger and Power
Fear, anger and power are closely associated. Fear is energy go-ing out from us in a dispersal pattern. When we experience fear, we lose our sense of focus. We feel out of control. Fear is a loss of power from the whole chakra system, but most significantly from the third and lower chakras.
When one feels that his or her power is being drained from the third chakra, they immediately descend into the level of fear. Their reaction is to fight back against a perceived attack, or to flee the attack. 'They are unable to take the quantum leap in aware-ness to the fourth chakra level where they will see relationships and interactions with others as mirrors of inner struggles and growth processes within themselves. When they can eventually make this transition to the heart level energies, they will find the heart energies will transmute the fear they have into a feeling of unity. They will be able to transcend the need for daily power struggles and will be able to relate to other beings on a higher vibrational wavelength.
The Anatomy of Fear – "Fear is the little death…"
The Archetypal Warrior and the Eternal Battlefield
In our daily lives, it is very easy to get pulled down to the third chakra level of power struggles. The third chakra is the home of the consciousness of the "Eternal Warrior."
The nature of the Eternal Warrior's energy vibration is one of eternal struggle. There will always be another battle to wage in order to prove the validity of that energy's existence. You only win the third chakra battles by transcending that vibrational level into the higher levels of heart energy, the fourth chakra.
As beings on this planet we have lived for many millennia within the energy sphere of the third chakra. It is the cause behind our wars, our battles over territory and our battles over food, re-sources and power. Some of these archetypal struggles were a necessary part of our evolution as beings, but we must not make them the focal point of our future energies.
When someone who is operating at a third chakra level challenges you, it is an attempt on his or her part to bring you down to a lower vibrational energy level. Once you come down to the level of third chakra power struggles, there is no ultimate win or loose to that game. The playing field of this game is the "Eternal Battlefield." 'the biblical message "Love your enemy" does not mean ignore violence and become passive. It means do not play the game of returning hatred and violence with more hatred and violence. From an energetic standpoint it means transmute the energies of hatred and anger into higher vibrational states. You never win by hating your enemies. You only win when your enemies cease to hate.
'This viewpoint of third chakra energies and fourth chakra energies should not be taken to mean that one does not confront evil in the world. It is important for loving beings to act together responsibly for the betterment of our world conditions. The challenge is to do this from a higher vibrational level and not from a level of judgment or hate. This is an extremely difficult challenge at this time.
Heart Energies and the Global Consciousness
Just as individuals operate from different levels of consciousness and different chakra energies, the nations of earth also operate from different levels of group consciousness and group energies. Many poor nations on the planet today are at the first or second chakra consciousness of basic survival and procreation. Many other nations are at the level of the third chakra consciousness in their evolutionary growth. These third chakra nations see all other nations as being in a potential power struggle with them. They build armies either for protection or for expansion. They focus their energies on maintaining extreme nationalism, enforcing boundaries, zealous control or slaughter of their own internal populations, and exploiting or even wasting earthly resources. None of this is reflective of fourth chakra energies. It is important for the eventual survival of humans on this planet that nations are able to evolve through and beyond the third chakra energies into the fourth chakra energies. It is at the level of the fourth chakra consciousness, that nations will act in brotherhood with other nations, and will recognize that all nations are partners on the planet. The fourth chakra consciousness will bring with it the ability to understand one-another through love and compassion, and a realization that conflict harms both sides.
The Archetypal Struggle of "Good vs. Evil"
There is no doubt that the earth is still in the midst of the powerful good vs. evil archetypal battle. Old power struggles and hidden forces are coming to light and being exposed on a global scale. Bringing dark energies into the light will raise their vibration. Those that can transmute to higher levels of energy will do so. There will be some that cannot change at this time. One of the goals of the energy facilitators we talked about in Part One is to raise the vibrational energy and consciousness of those trapped in this archetypal battle so that they can evolve beyond it. This is a global consciousness shift that will be unlike any previous era in human history.
As part of this shift, social structures and conditions will be affected on a broad scale. Things will simply not be the same as they have been in the past. The perspective from which we view these changes will be a reflection of our level of consciousness at this time. There will be times of confusion as old paradigms cease to work and old social values are brought into focus for re-examination. People will be challenged to look at their own individual life priorities and make conscious choices on how they want to live their lives. People will need to make choices as to what mental thought forms they want to hold in their minds and in their hearts.
We are moving into an era where the compassion and wisdom of the heart will be sought out and valued as a means to balance the lower energy vibrations of fear and control.
The Wisdom of the Heart
"Open your heart. Let it show you what it knows. Learn to trust what you know. You're wiser than you think." —Melody Beattie, Journey to the Heart
Because of its vast interconnected web to other energy centers in the body and to the body's energy field itself, the heart has a greater depth of wisdom than you will find in the intellect alone. The heart and the head (intellect) do not speak the same language.
The wisdom of the heart runs deeper into your psyche than does your intellect. It is very important to achieve a sense of balance between the head and the heart. Many people who have ignored or suppressed their feelings for years have a difficult time listening to the heart. For them, this is a new and different approach. It may take some getting used to. This is part of the modern paradigm of the new energy, which is to "think with the heart."
An Open Heart and the Power of Healing
When the Heart Chakra is open, a person has a heightened ability to sense energy flows from other people and other living beings. A person with an open heart can also send heart energy (love energy) outward to others to help them heal and achieve greater wholeness. On open Heart Chakra is an energy vortex that can be used to focus energy and connect with the energy fields of others. When your heart center is open, there is a definite feeling of deep warmth in this area, a deeper warmth than any other you have known. As your heart energy expands out from your heart center, it has a radiating quality that can be very healing to other people. This is a very real energy, not an imaginary feeling.
The Rulers of this world has hidden plans for mankind. They want keep whole mankind disconnected from higher powers in all forms, and they using FEAR to strengthens the lower negative magnetic field – because then they can keep the soul bounded, caught, controlled, fed, manipulated and enslaved below the three first chakras.
The heart's electric field is 60 times stronger than Earth`s magnetic field and its magnetic field is 5,000 times stronger than the brain's (McCraty, Bradley, and Tomasino 2004-5, 16).
The real secret is this; we are disconnected from each other on a electrical field meaning.
Those who do energy healing know the tremendous power that the Heart Chakra holds. One makes an energetic connection with another through the heart center, and expands their love energies into a powerful healing, radiating flow.
Here is some other secret facts the rulers don't you to understand:
Kundalini Energy: Kundalini is actually the power of consciousness, whether it's in our body or in the universe at large. The awakening of kundalini is the greatest enterprise and most wonderful achievement in front of man. That inner light is the kundalini. In most of us it's only operating at 40 watts. In great saints and tantric masters, it functions at a thousand gigawatt amperage.
A fully awaken individual who can reach the heart-chakra and then the crown chakra may then be the most powerful man walking on planet Earth. The rulers have always and for thousands of years suppressed mankind to following and accepting their way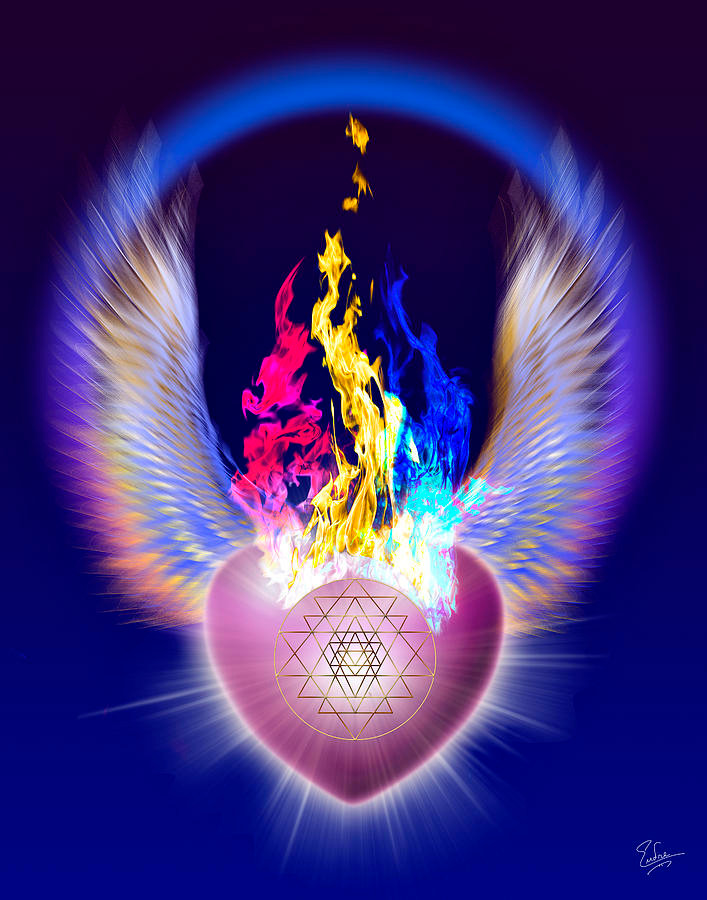 The even deeper of these two pictues is; through FEAR, negative programmimg the soul becomes caught within the negative electrical magnetic field and can´t get out of the MATRIX, and it becomes a Prison of the Mind. By feeding the brain with constant fear, negativity and world traumas people can´t evolve beyond the EGO-based 3 dimensional Consciousness. The Illuminati will promote the One World Government as a project for strenght and unification. They have a hidden agenda and just the few who will run the world knows its real plan. They will lie to the whole world.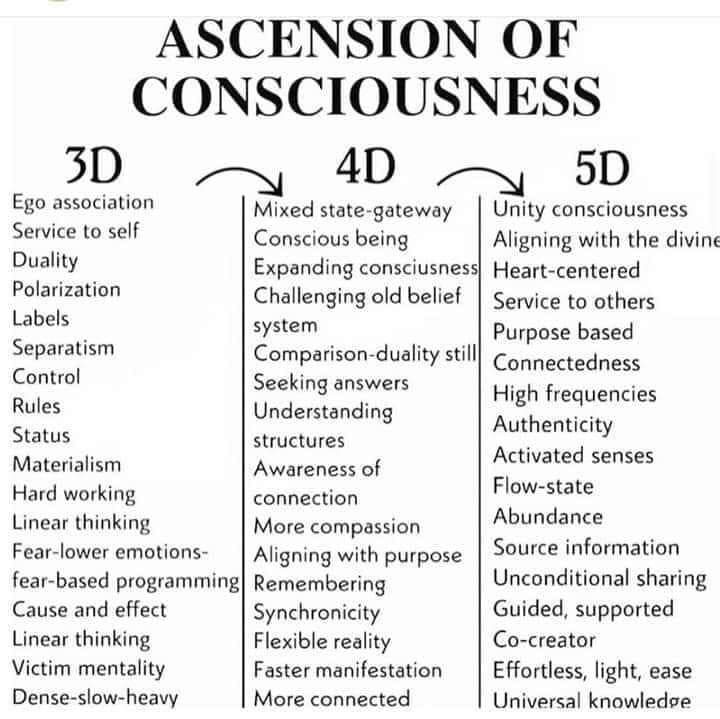 Anyone who calibrates over 700 can counterbalance the negative energy of over 700,000 people. The Rulers (Illuminati) have designed a world to keep mankind supressed under 200. The soul then becomes caught and trapped within the negative magnetic field and can´t climb on the Ladder up to the brain. The mind is bombarded with news of the world to stimulate negative fear programming, by news. movies
Nikola Tesla is alleged to have stated: "If you only knew the magnificence of the 3, 6, and 9, then you would have a key to the universe."
Nikola Tesla said, " If you wish to understand the Universe think of energy, frequency and vibration."
They want disconnect everyone from their inner divine power through separation beacuse every awaken soul soul is a treath to them. They don´t want anyone to disturb their work.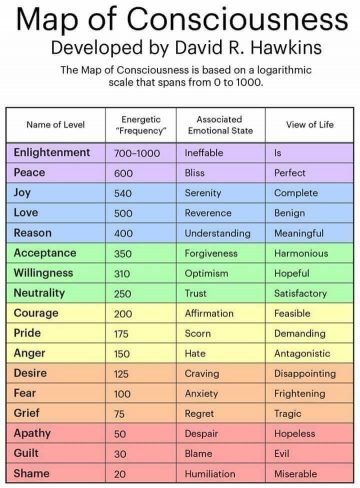 Those who manage to connect with their inner Divine Source of Light and Powers then may be the most powerful Being´s walking on Earth
In the end the reward will be the Philosoper´s Stone.